Testimonials
What others say about Doula Denise
"I will never forget how Denise guided me through the birth of our second son. After having had a cesarean section the first time I gave birth and having difficulty recovering from that I really hoped to give birth the natural way the second time around. Somewhere around 37 weeks I did not feel so confident I could do this and I decided to search for a doula and found Denise. Without Denise I am sure I would have given up. She massaged my back for 18 hours during my non-stop (it felt like that) contractions and also calmed me down when I was about to panic. Her presence is so calming and comforting and now almost 1,5 year later I still vividly remember how she was there for me.
After giving birth Denise started cooking for us and she just made the most delicious food: soups, healthy cakes, breads, stews and other comforting meals. I still cook many of her recipes today. She was kind enough to continue doing this for a bit longer than usual and it was just a total treat at a time in our life where we could use it best!"
Hesther & Michael
"One week ago I gave a delivery and Denise was supporting me with all of this process during the labor and some weeks before. My husband & I can not even imagine this process without Denise: we are really thankful for her emotional support, reasonable advises, being so prepared (!) and gentle! Even voice of Denise during this process so helpful and supportive! Denise, thank you very much!!! You are part of our memory in the most important moment in our life 🙏
We wish you all the best and highly recommend you for other parents!"
Galina & Hessam
"My first birth was tough. However, after my daughter had made her entrance, it was the sleep-deprived and soul-crushing first few weeks as a new mother that left me the most traumatized. I knew when I fell pregnant again with my second child that I wanted to do everything in my power to experience birth and the newborn stages differently. I had wanted to have my daughter at home but was required to transfer to hospital at a late stage. I was actually thankful of the change of professionals with the hospital transfer and the staff at OLVG West were brilliant. But I remember a blur of a lot of different faces both during labour and in the post-partum days after, people who cared for me professionally but without knowing me or my family. When looking back on that time, I really feel that change of care had a profound impact on me and my experiences as a new mother. As a result, it was very important to me that second time round I had continuity of care and a recognition from a care-provider that a mother's well being needed support, love and nurture in pregnancy, labour and the during post-partum weeks. Working with Denise was the best decision I made to achieve this. It was wonderful to be able to gradually get to know someone over the course of my pregnancy and be secure in the knowledge that I would have someone with me at the time of birth to support me and my husband that we knew and knew us. Someone who knew our wishes, could guide us and ultimately in those early weeks – take care of us.
As with all these things, the birth of my little boy was quite unlike the birth of my daughter. My waters broke in the early evening on the couch, I went to bed as normal that night and slept! I woke up to contractions that I breathed through and was able to snooze in between. I listened to my hypnotbirthing tracks. I felt calm, rested, (kind of) prepared – all the things I didn't with my first birth, despite my best intentions. At around 5am, my daughter woke up and I updated Denise on the night. With being up and about, my contractions started to become more intense and with less space in between. Denise suggested I take a shower and told me that she was on her way round. In the shower, my contractions started to bear down and I could feel my body prepare for pushing contractions. I was shocked (and thrilled!) and couldn't believe I had gotten to this stage already. Things moved very quickly, luckily Denise arrived to be with me just before my little boy arrived. She adjusted my position on the floor of my bathroom – the shower still on – and guided me,supported me, holding my hand, rubbing my back, reminding me I could do this. My little boy's head arrived before the midwife was up our stairs, and Denise gently helped me to find and hold his head as he was born. I know that for some people the thought of that sounds scary and daunting. But for me it was the most empowering experience of my life. I was in awe of my body, its intuition and ability and I felt safe and supported. I couldn't have asked for more.
Denise helped me and our little baby boy move gently back to my bed and stayed with us for the rest of the morning, cleaning things up, cooking us food and being a gentle and supportive presence. Denise continued to support us through those early weeks. Having someone to come over and take care of me, make healthy and nutritious food, make tea, give me a massage, help with breastfeeding and my recovery after birth, was absolutely wonderful. It took the pressure off and allowed us to bond as a new family of four. But it was the consistency of having someone there – someone who had gotten to know me, had seen me birth my baby and get to know him in those early weeks, which proved to me so, so valuable. I look back on the birth of my baby boy and those first few weeks as some of the most happy and wondrous of my life. I feel so privileged to have been given the opportunity to experience that time like that. After my first birth, I used to think that women who described their birth or newborn days as glorious must have been completely delusional. But now I know, they must have just had a Denise in their life."
Zoe
"Denise is the perfect birth partner, she will be your friend, confidant and cheerleader if and when you need it. Denise was so knowledgable about pregnancy and birth and she really put us at ease. Denise is a practical thinker, a warm personality and good communicator and she can easily adapt to situations.
The tips and tricks in the preparation for birth and throughout the pregnancy, really assisted us. From the excercises that eased back pain, to the support during labour up until to the very 'moment' by my bedside.
This is way more than a job for Denise- she takes this in her stride with much passion, capability and grace."
Gabi & Daniel
"Denise was an angel and a priceless support during our delivery.
I couldn't recommend her enough, especially to non Dutch parents.
We are forever thankful!"
Sabine & Lorenzo
"I was extremely fearful about birth and it helped me so much to talk about it with Denise from day 1. It made such a difference to my mindset and to our whole experience! She brought us the perfect mix of knowledge, empathy and super calm and positive energy – and she was sooo resourceful and full of great tips all along, before, during and after delivery.
On the day itself she created the perfect 'bubble' for my husband and myself, we could focus just on living and enjoying the moment and nothing else.
Looking back at birth now -6 months further down the line- I'm immensely grateful that she helped us having such a smooth delivery, I am coping with all the sleepless nights now with our baby because I didn't start already exhausted from birth. I simply can't recommend her enough"
Cristina
"What a delight to have Denise present at my first birth! Her calm voice assuring me is still in my head today :). She was a huge support for my boyfriend as well; without her we probably couldn't have felt as such a team. She gave him confidence and instructions as how to support me. Denise felt what was needed before we could even express it. I am so grateful for her presence & support throughout my pregnancy and of course my labour."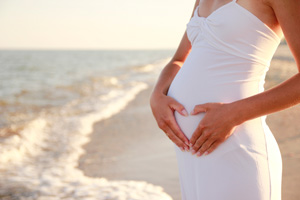 Maria
"Denise was my doula during the birth of my first baby. As it was my first baby, I wasn't sure what to expect during labour, how would it be and so there I realised that I made the right decision of hiring a doula. She was one person known to me whom I can trust fully and can ask for any help without any hesitation. She was very supportive, polite, warm, informative and calm. She constantly put counter pressure in the back and help me coping up with the pain. She helped me providing food & drinks. She is been extremely humble and helpful during the whole delivery and the pictures and birth story she did for me is something I cherish always. Thanks for being my doula Denise!!"
Ruchi
"I get emotional thinking of my birth experience with Denise. She held my hand, looked into my eyes and guided my breathing which was exactly what I needed to get through my 4 day labor. I don't know what I would have done without her. What we went through together was more intimate then what I've experienced with friends or family, it was amazing to have her by my side."
Megan
"Denise has been my Doula since June. I gave birth to my little girl Amaia on the 16th August and I had my final meeting, which climaxed with a post natal inspired Mexican ritual (rebozo closing ceremony) exactly when Amaia was 1 month old, so I am prepared to face the new world as a proud mamá.
Denise has been only a whatsapp message away all along, answering to all my queries, as crazy and picky as they might have been, and she always had a simple, prompt and useful advice for me. Knowledgeable, resourceful and a friendly support has been very much appreciated. The massages techniques for my husband proved to be very welcomed during labour as well as the spinning babies exercises. Thanks to your TENs device I managed to go through labour under control, as much as I could but I will never forget the hot water feeling you put on my on my lower back as soon as I got into the birth pool. I felt so peaceful and managed to regain my energy for the final pushes.
The birth story and the photo pics of the most important labour moments are amazing. Something we will well preserve and show to Amaia one day. She will be proud of your work too 🙂
All in all, considering Amaia is our first baby and we have no family in the country, Denise's support has been fantastic! Many thanks Denise, I wish you all the success in your so enjoyed job 🙂 Let's keep in touch. PS: the banana cake and the beetroot soup you cooked were delicious and good to know that they are very healthy. Thanks a lot for taking care of us."
Mara
"Denise was my doula in my first birth. She is very calm, which helped to calm me down as well. Her advices helped me a lot, as well as my husband.
It was a completely new experience and I'm sure that her support both before and during the labour was super important for giving me more confidence and tranquillity. I could go through all my fears because I knew that she was there supporting me.
I don't have words to thank for all this help!
I'm sure that she was born to be doula. This is a wonderful talent and to have met her was a lovely present in my life!"
Paula